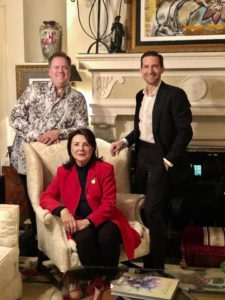 LARC (Lee Association of Remarkable Citizens) will host a glorious evening of delicious food, fine wines, fun and intrigue on Thursday, March 12 at 6:30 p.m. at the historic riverfront home of Fran Fenning in Fort Myers.  Guests will step back in time to the 1920s where an elaborate party is being hosted by the famous silent film actor Eric Jewett.  Thomas and Mina Edison, Henry and Clara Ford, Sidney and Berne Davis are all said to attend along with other famous residents of Southwest Florida of the era.
One of the famous guests has something to hide.  Highly-trained improv actors will set the scene for the evening and guests will have the next two hours to unravel the secret. Sponsorship opportunities and ticket packages are available.
The event is co-chaired by philanthropist Marc Collins and Dwayne Bergmann, principal of Dwayne Bergmann Interiors.  Fran Fenning is the honorary event chair.
Fenning's home, also known as the Jewett-Thompson house, is listed on the National Register of Historic Places.  Built in 1926, during the land boom period, the home is one of the most elaborate constructed in Southwest Florida during that time.  The home is an excellent example of Mediterranean Revival style and includes beautiful gardens.
Attendees are encouraged to dress to match the 1920s era.
"We are so grateful to Fran Fenning for opening her home for our fundraiser.  It is a magnificent property," said Angela Katz, LARC Development Director.  "Guests will have the opportunity to roam the 3+ acres while partaking in the plot and proceeds from the event will benefit LARC's programs that empower individuals with disabilities to reach their full potential."
Sponsorship packages that include an exclusive VIP reception are available.
For ticket package or sponsorship information call Angela Katz at (239) 334-6285 x 229 or email [email protected]