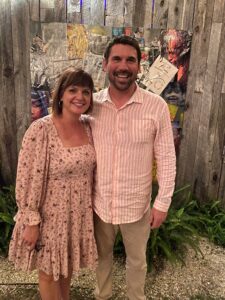 LARC (Lee Association of Remarkable Citizens) 2nd annual fundraiser benefiting The Lori Carroll-Collins Scholarship Fund raised $250,000.  The event was held on March 19, 2022, at Misty Morning Barn in Fort Myers.
The evening included a five-course dinner created by celebrated local chefs Mike and Karen Gavala of G3 Catering. Guests enjoyed wine pairings from sixth-generation winemaker Clay Mauritson, founder and owner of Mauritson Wines in Healdsburg, California.
News anchor Kellie Burns of NBC-2 and Southwest Florida writer, actor and director, Stephanie Davis emceed the event. Scott Robertson was the auctioneer.  Local businesswoman and entrepreneur Diana Willis chaired the event.  Marc Collins, Lori's husband, was the honorary chair.  Sponsors included Richard and Vicki Pitbladdo, Dwayne Bergmann Interiors, Gulf Star Marina, Marc Collins, Diana Willis of Trinity Commercial Group, Siesta Pebble, Lee Health, and L J Zielke.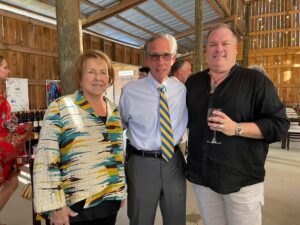 "The success of our 2nd annual Lori Carroll-Collins Scholarship event is a tremendous opportunity to impact more lives where their abilities will shine more than their disabilities," said Willis.  "The community at large is a wonderful benefactor in utilizing the talent among LARC's growing participants.  This is a tremendous impact all around."

Honorary chairs for the 2023 event are Richard and Vicki Pitbladdo.  2023 event chairs are Tim and Sandy Youngquist, Jim Wells, and Pamela Cronin.
Her family established the Lori Carroll-Collins Scholarship Fund in memory of Carroll-Collins.  A resident of Fort Myers for 35 years, Lori cared deeply for her community and people in need and led her life by example when it came to generosity and philanthropy. The fund helps bridge financial gaps and allows individuals with intellectual and developmental disabilities to access innovative services offered by LARC.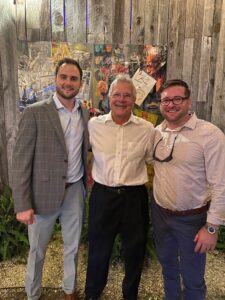 "We are so grateful for the support of our attendees, sponsors, event committee, chefs, and winemaker," said Angela Katz, LARC Executive Director.  "Lori's scholarship fund is offering hope to those seeking to maximize their independence and employment success and may have no other means to get the support they need.  Lori's fund has already provided scholarships for programs including Supported Employment, Adult Day Training, and System Navigation.  Every recipient is a success story."
Donations can be made to the scholarship fund online by clicking here.  For more information, visit www.larcleecounty.org, call Angela Katz at (239) 334-6285210, or email [email protected].