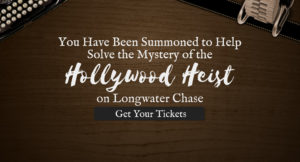 You are invited you to join us for a mysterious evening saturated with evidence and suspicion!  A Hollywood Heist has taken place on Longwater Chase and we need help solving the case of the missing jewels!
Thursday, April 13, 2017
6:00 – 8:30PM
11370 Longwater Chase Court, Gulf Harbour
You will enjoy an evening filled with delicious food, fine wines, fun and intrigue as you set out to collect clues, interact with the suspects and solve this Who Dun It mystery.  Someone has been robbed of their jewels and Mark Loren Designs has offered a valuable reward in hopes of finding out who!
Who will solve the case and go home with the real jewels?  Please join us and find out!
$150 per person
The proceeds LARC receives from events like this is essential to our fundraising efforts and helps to raise the critical funds needed for the programs and services LARC provides. Since 1954, LARC's mission is to promote and provide opportunities for people with intellectual and developmental disabilities to live, work and participate in their communities to the fullest extent their capabilities allow.
This event would not be possible without the generous support of our sponsors!
Presenting Sponsors are Royal Shell Real Estate and the McMurray and Nette Team along with Mark Loren Designs!
Event sponsors are Myers, Brettholtz & Co., Florida Community Bank, Lykes Insurance, Baldwin Krystyn Sherman, Florida Weekly, Rolls Royce of Naples, Sunset Air & Home Services, MarineMax, FineMark Bank, Rosy Tomorrows Heritage Farm, Crave, Bubba's Roadhouse & Saloon, Bonefish Grill Fort Myers, Lobster Lady, Norman Love Confections, Spotlight Graphics and tcmc interactive.
Special thanks to Sunny Lubner, Karen Goldberg, Andi Horowitz, Anne Dodd, Charlotte Waggoner, Marc Collins and the many other who contributed to making this heist come to life! Thank you!